61 State Route 208
Yerington, NV 89447
775-463-1052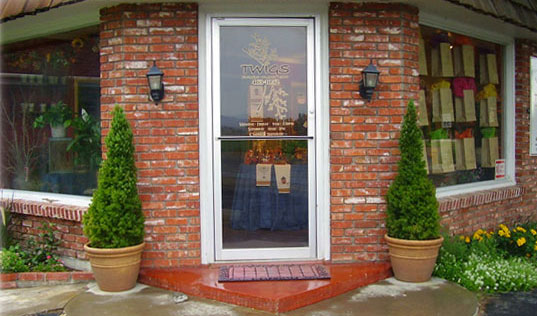 Sympathy Flower FAQ



It is never easy comforting a relative, friend or associate who has lost a loved one. People are often uncertain as to the best way to show their sympathy. Adding to this uncertainty are changing trends in how Americans commemorate the death of a loved one. Services are simpler and shorter. Viewing periods are now typically limited to one day, if they occur at all. A greater number of cremations have resulted in shorter or no memorial services.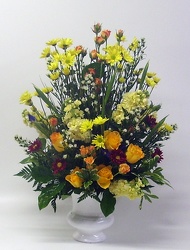 Flowers have traditionally been sent to the funeral home for display during the viewing and service. However, this does not mean that there should be no show of sympathy if no service is held. Grief therapists agree that the rituals surrounding death are an aid in the grieving process. In instances where there is no service, experts recommend sending condolences to the bereaved person or family's home.

Guide to Common Terms for Sympathy Flowers
Many people are unfamiliar with the terms used by florists for sympathy arrangements. The Society of American Florists has provided the following descriptions of the most commonly used terms:
Wreath: A floral presentation often used because a circle symbolizes eternal life.
Spray: Flowers designed for viewing from one side only. Sprays are often placed on an easel.
Floral Arrangement: A mix of fresh flowers displayed in a vase, basket or other container.
Casket Spray: Flowers designed for the top of the casket - usually ordered by the family.
Inside Piece: A general term to describe small floral designs placed inside the casket. Examples include satin hearts, nosegays or small sprays.
Ask your florist for details regarding the variety of options available in floral sympathy arrangements.

The Weeks Following the Funeral: Helping a Friend in Grief
The funeral service is over. Friends and family have paid their respects and gone home. There are no more hectic plans to distract the grieving family, and the shock has worn off. They are now left feeling lost and alone.
Experts say that although the initial outpouring of sympathy is a great comfort to a family that has lost a loved one, many people experiencing such a loss appreciate being thought of in the weeks and months after the funeral. Consider sending flowers or a plant with a personal note to the home of the bereaved. Your message of, "I'm here if you need me," will show the bereaved that no matter how much time passes, he or she can count on your support.

To send sympathy flowers to a service from Twigs, click here.
To send sympathy flowers to the home from Twigs, click here.

Sympathy Etiquette

How do I know what is appropriate when ordering flowers for a funeral?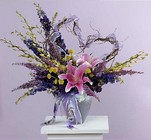 Sympathy tributes vary region to region, so it is best to ask your florist what he or she recommends. Sometimes a florist will know what the family has ordered or what other tributes are being sent, and can create something for you that will be a nice complement to the other flowers. The florist should also be familiar with any restrictions the funeral home or cemetery might have. Additionally, if a family has any special requests, the local florists are usually notified and can pass that information on to you.

I have seen a lot of different styles of floral arrangements at funeral services lately. What is best? How do I order a "special" design?
Highly personalized sympathy tributes that depict an aspect of a person's essence are a growing trend. If the deceased was a man who loved the outdoors, perhaps a tribute incorporating branches and natural materials would be ideal. If the deceased was an avid gardener, a tribute with a collection of garden flowers may be a perfect choice. Be prepared to give the florist a few hints about the person you want to memorialize. If you prefer to send a design that is more a reflection of your style, be sure to communicate that to the florist. Most flower shops will have photos of traditional sympathy styles for you to peruse.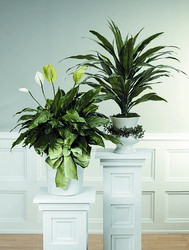 Is it okay to send flowers to the family's home? If so, when is it appropriate to send them?
Absolutely. This is a wonderful way to express your sympathy and is a common trend. Some people choose to send flowers to the home immediately while others prefer to wait a week or more. There are no rules. Flowers can be a very comforting reminder during the grieving process that friends haven't forgotten.

Is it still appropriate to send flowers if the obituary mentions a charitable donation?
Yes. Because flowers help say what is often difficult to express, they are always appropriate and in good taste. Flowers also play a functional role, adding warmth to the service and providing the visible emotional support that the family needs during this time.



Is it acceptable to send roses or flowers in a glass vase to the funeral home?
From an etiquette standpoint this is perfectly acceptable; however, some funeral homes have rules about certain types of arrangements. Your florist will be familiar with what each funeral home allows.

If several of us want to go in together for funeral flowers, how do we sign our names so the family knows how to thank us?
When groups go in together on flowers, the arrangements can be very special and make a larger showing. There should be room on the floral enclosure card for several names, but if there's not enough space it is best to sign as a group, such as "The Girls in Accounting" or "The Smith Family." Include a contact name and address on the card so the family knows who to thank.


Where did the tradition of sending funeral flowers come from?
Flowers have always played an important role in burial traditions because of their soothing qualities. In ancient cultures, floral and herb essences were used to anoint the bodies of the deceased and aromatic flowers and greens were displayed.

Is it appropriate to send a plant to the funeral home? If so, will the funeral home send it to the family after the service?
Yes, it is appropriate to send a green or flowering plant. Some funeral homes will deliver plants or flowers to the home if specified. In some cases, the florist may make arrangements to pick up the plant after the services and deliver it to the family. Otherwise, the funeral director will simply notify the family members that they may take the plants with them after the service. Check with your florist to see what is customary for your area.

If I want to place a tribute in or on the casket, what should I do?
This tradition is usually reserved for family members or special loved ones. Ask the family before ordering anything for the casket. Your florist can offer suggestions for other special tributes.

What is appropriate to send for a cremation?
A tastefully designed floral tribute adds beauty to any type of memorial service. It is common for the family to have an arrangement designed for display with the urn. Because cremation is quite common in an increasing number of regions, many florists will have specific suggestions.